The Rockaway Valley Railroad
The Rockaway Valley Railroad was a short-line that ran from Whitehouse Station to Morristown. At Whitehouse Station, it had an interchange with the Central Railroad of New Jersey. At the northern end, in Morristown it advertised a connection with the Lackawanna. In reality, it ended a Speedwell lake and passengers and freight traveled by cart and carriage to the Lackawanna Morristown station.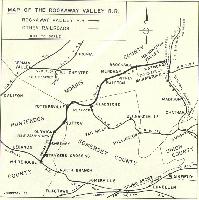 Click for a Full Sized map.
The RVRR was built primarily as an agricultural railroad. It was incorporated on March 28th, 1888. The area of New Jersey through which it passed was rich in peaches. The first engine, was acquired from the Pennsylvania Railroad. This old 4-4-0 was named "The P. W. Melick" after the father of one of the Directors.
Unfortunately, before the RVRR had even started to make money, the peaches were infected by blight. This destroyed the peaches, and the RVRR's future as well.
However, the little railroad continued to operate. Using hand-me-down equipment and light rails, the "Rockabye Baby" continued to operate. The interchange on the southern end provided just enough traffic to provide a glimmer of hope, but never putting the railroad on sound enough footing to continue building its planned connection in the north with the Lackawanna.
It continued to haul farm goods and minor merchandise and coal traffic. It did actually have one distinction in this area, it was one of the first railroads to actually haul Less then Carloads.
The RVRR entered bankruptcy three times, in 1895, 1906 and 1912. But, each time lasted several years. The Rockaway Valley ended life as the Pennsylvania & New Jersey Railroad in 1914.
The P & NJRR struggled to operate for a few years. The new owners improved the grades, repaired bridges and bought in new (used) power. In 1917, they too finally gave in and decided to make a profit: they scrapped the railroad. By 1918, everything that could be sold, was sold.
Part of the former Right of Way exists as Patriot's Trail in Morris County. I have heard that the coal dumper in Peapack is standing, although, I have not been able to find it.
There are several sources of information on the Rock-a-bye Baby. However, there is only one definitive history: "The Rock-a-bye Baby", written by Thomas T. Taber, III.
Rockaway Valley Railroad: 1888-1914
(c) 1999 - Phil Paone