The Lehigh & New England Railroad
When thinking of the Lehigh & New England, two things quickly come to mind: The Bull's-eye Logo and Coal. But, this regional railroad is much more then that. It carried cement, slate, grain and some merchandise traffic. It also functioned as something of a bridge line, like her sister, the Lehigh & Hudson River. Finally, it also was at one time a passenger carrier as well, although these operations ended early in the 20th century.
The L&NE began her existence in 1895 when William Scott transferred the bankrupt Pennsylvania, Poughkeepsie and Boston railroad to the newly incorporated Lehigh & New England Railroad Company. Shortly after, in 1897, the L&NE completed the tracks through New Jersey to the interchange at Campbell Hall was completed to allow connections to the Erie.
The next change in ownership was by the Lehigh Coal and Navigation Company in 1904. As a matter of fact, that company is still in existence and still uses the same logo.
The L&NE ran from Allentown, Pennsylvania to Maybrook, New York passing through North West New Jersey. It crossed the Delaware between Portland, PA and Columbia, NJ. In New Jersey, it interchanged with the Lackawanna in Hainsburg Jct. and with the New York Susquehanna & Western in Sussex Jct. and Swartswood Jct.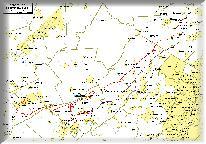 Click on map for larger representation - (c) Clint Chamberlin
One claim to fame is that is was one of the first northeast railroads to fully dieselized, accomplishing this in 1949.
In 1961, due to a steady decline in traffic, the Lehigh & New England ceased operations following the New York, Ontario & Western as the 2nd major US Railroad to close its doors. Most of her fleet of Alcos went to the Louisville & Nashville. Some of the switchers went to Liberia for a construction project. Portions of the L&NE were operated by the Jersey Central, until they pulled out of Pennsylvania. And, a few short segments are still in use by NS/CSX/Conrail today.
The L&NE ran a small variety of steam powered locomotive, in line with its small size. They favored Consolidation (2-8-0) built by Baldwin. Of course they ran a large percentage of Camelbacks. The largest engines they ran where 2-10-0.
Its diesel roster was pretty Spartan in variety, but attractive in appearance. The L&NE invested in Alco power and had a fleet of Alco FA units and RS2s. While the RS2s were fairly boring, the FAs more then made up for it, with their black bodies, white stripes and red logo on the nose.
In addition to steam and diesel, the L&NE ran a small number of gas-electric doodlebugs for it small passenger operation.
The details are below:
Lehigh & New England Roster - Text only
LN&E Photo Roster by Clint Chamberlin
What's Left:

Some trackage in use by CSX in PA.
There are quite a few structures in PA. The stations at Allentown, Andreas, Bangor, Danielsville, Martin's Creek, Nazareth, Pen Argyle & Portland.
I know of no surviving buildings in NJ, although the book listed below indicated the Sussex station survives.
For More Information:

The Lehigh & New England Railroad: A Color Retrospective by Douglas E. Lilly.
This is a great book and fairly easy to find.
The History of the Lehigh & New England Railroad Company, Edited by Randolph Kulp.
I have not seen this book very often - but it looks good and was published in 1972 by the NRHS.
Links:

LN&E Photo Roster by Clint Chamberlin
Lehigh & New England Railroad:1895-1961
(c) 1999 - Phil Paone